News
Rescued Little Owl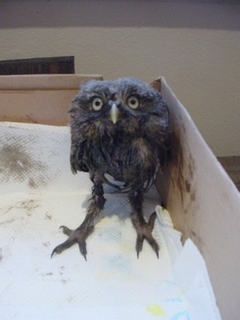 OWL SLICK!
Article in our local Newspaper "The Citizen"

10:30 - 06 June 2003
This oily owl is lucky to be alive today after plopping into an oil drum at a Gloucestershire based scrapyard.

You can just imagine the poor mite getting into a flap screeching "get me hoot of here" as it battled to stay afloat. Thankfully the brave fledgling was spotted by a worker at the Twigworth based scrapyard, who then alerted the Barn Owl Centre, in Brockworth, where staff came to the rescue.
Vincent Jones, the centre's director, said he was amazed the owl survived the ordeal.

He said the owl - whom The Citizen has nicknamed 'Oily Ollie' - must have fallen into the drum and the oil would have made it impossible for him to escape.

"He's lucky to be alive." said Mr Jones. "It's not a great start in life for him."

The young bird had to undergo a series of delicate cleaning processes to rid him of the engine oil clogged in his feathers.

He had to be emerged in vegetable oil twice and cleaned down with neat, then diluted washing up liquid.

"He seems to be well on the road to recovery," said Mr Vincent. "He's looking nice and clean, with his feathers all fluffed up and quite innocent and cute!"

The young bird was taken into the centre on Sunday, and Mr Vincent said he was shocked to see the state it was in, but was pleased the scrapyard worker thought to contact the centre.

"He took the right course of action and we were more than happy to help out," he added.

He said the centre will release 'Oily Ollie' back into the wild, in a few weeks time once he's 'oil well again'!
| | | |
| --- | --- | --- |
| Poor Fella | Time for a wash | Released |
---
Other Barn Owl Centre News