News
Wild Tawny Owlets brought into Care 2009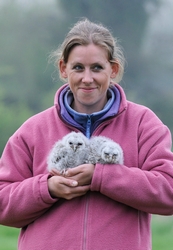 Wild Tawny Owl Orphans
This is about the time of year when we get handed a number of young Owlets. Here is Juliette who we call mother hen with 2 new Tawny Owlets aged at about 2 to 3 weeks.

These Owlets will not be placed on public display because it is important we keep them wild natured, this helps for when it is time to release them back to the wild, also it is illegal to put wild birds on public display, this takes away the risk of imprinting wild birds to humans.

These two were handed to us from a local Wildlife Rescue Centre called Vale Wildlife Rescue; every year we both work closely together to re-release many wild Owls & Kestrels.
The site these were found was assessed as unsafe, hence why they are with us. The nest was found to be in an old aeroplane engine located at an SAS Army base in Wales. They were returned to the nest on 3 occasions, but they kept leaving the nest to be found on the floor. They are too young to perch out so a decision was made to bring them into captivity for their own safety.
They couldn't be put back with their original parents because the site was unsafe, now they will be guaranteed safety & be raised by a Tawny Owl parent who is a professional at keeping them wild natured.

Now at the Barn Owl Centre they have been placed in an aviary with a very special captive bred Tawny Owl, this Tawny Owl will take over & act as an important foster parent, this is a pleasue to witness through an aviary camera. It is also important that they are raised by their own species & not by humans.

Once these young Owlets become fully fledged they will be transported to one of our release pens located at one of our Tawny Owl project sites, from there they will be prepared for release back to the wild where they belong.

With regards to this photo, this is the only time they get handled like this, the image taken is purely a record shot showing a caring keeper who really enjoys the rehabiliation of Owls.

If anyone finds a young Owl on the floor; please make some attempt to put it back in the nest. If you encounter a problem, call someone who would know what to do, don't take the young Owlet home & hand rear it, this will wreck its chance of going back to the wild. Also it would be important to take note of the Wildlife & Countryside Act, which can be found on DEFRA'S web site
FINAL OUTCOME - BOTH RELEASED BACK TO WILD SAFELY ON THURSDAY 1st JULY 2009

Young Tawny Owlets
---
Other Barn Owl Centre News