News
Barn Owl Manor - Building for Barn Owls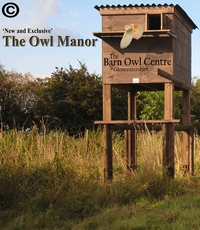 Improved housing for Wild Barn Owls
The Barn Owl Manor
'New and Exclusive from the Barn Owl Centre'Related Links & News Stories
Link to - Barn Owl Manor Images & Information
Link to - How to buy a Barn Owl Manor
Link to - CO OPERATIVE FARM NEWS
Link to - BBC NEWS GLOUCESTERSHIRE
Link to - CCTV Cameras fitted to Owl Manors
Working to support landowners & their Barn Owls with
Nest Boxes & the newly designed Barn Owl Manor

September 2010 saw the launch of our newly designed Owl Box, appropriately named 'The Barn Owl Manor'.

A design that has been constructed by our own conservation team. Once positioned the Barn Owl Manor will offer so much more to Barn Owls and their supportive landowners. With the design being attractive to Barn Owls, it will enable better monitoring of the species whilst working on the farm.

Its robust design and looks separate it from any other Barn Owl Box on the market.
With no tree required, the Barn Owl Manor can easily be positioned at any location on the farm
This unique design and size will help to improve nest results for Barn Owls, whilst we feel confident that Jackdaws and Squirrels will be deterred from taking over their Manor.

The design provides a family of Barn Owls a much more spacious place to live, this will allow young Owlets to exercise more freely whilst they are safely growing up.

With your help the Barn Owl Manor will help complement any field margin and grassland area, whilst it provides the security Barn Owls need in our English Countryside.

It's built to last and designed to handle the harshest of all weather conditions.
For all enquiries for the Owl Manor call: 01452 383999
Price given will include an initial site visit, the delivery & installation of an Owl Manor plus ongoing support
For purchase our standard Barn Owl Boxes CLICK HERE
---
Other Barn Owl Centre News