News
The oldest Barn Owl alive?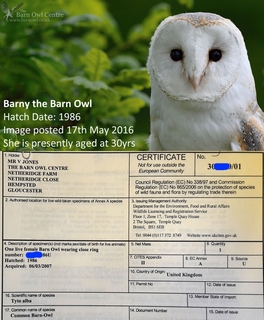 IS BARNY THE BARN OWL THE OLDEST LIVING BARN OWL IN THE UK?
Barny the Barn Owl is aged at 25 years, her hatch date is stamped on an old metal DOE leg ring, which she wears. If the date of hatching is correct we can say that she could be the oldest living captive bred Barn Owl found in the UK, if this is true then the predicted 20 to 25 year life span of a captive bred Barn Owl will soon be beaten by her. She is a very fit Barn Owl & is very healthy indeed, fingers crossed she will live on for years to come!
If anyone knows of a captive bred Barn Owl or knows of a wild Barn Owl that is of the same age or even older then please give the Centre a call, it would be a real pleasure to hear from you.
Tel: 01452 383999 & ask for Vincent Jones.
---
Other Barn Owl Centre News