News
Barn Owl Population Increase for Gloucestershire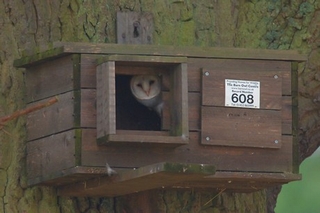 Dear Supporter,

Over a busy 5 year period the Barn Owl Centre based at Brockworth have been collecting important location data of wild Barn Owls, this being within the county & beyond. Over this period we have noticed an encouraging & yet huge increase in Barn Owl numbers in Gloucestershire. Working from old figures taken from the 1985 national survey it was said that the Gloucestershire population then were at 75 pairs, we can now report a rough count of approximately 150 pairs, this being a huge increase of 100% from 1985 to 2006. A similar increase is being recognised throughout the UK What is helping these amazing yet delicate birds to strengthen in our county is the amount of widespread habitat landowners have been creating in the countryside through Government habitat schemes. To add to this there have been a large number of nest boxes positioned to support Barn Owls offering them places to nest & roost, nest boxes are a kind of housing scheme, this has helped to replace the many Barns that have been converted to houses.

With regards to Owl boxes we put up or are put up by landowners it is common that a small number will be occupied by Squirrels, Jackdaws & Stock Dove. Stock Doves are on the red list & should be protected, Squirrels & Jackdaws on the other hand tend to fill up boxes with leaves or twigs, try & remove these species & their nest materials to free the box up for the Owls. When doing this please take care & be careful nothing shoots out from the entrance into your face. If you know you have Owls in the box you must be licenced under the wildlife & countryside law to inspect during the breeding season, this is where we can help as we are licenced.

Within Gloucestershire the Barn Owl Centre have positioned over 150 nest boxes in support of these beautiful birds, with more nest boxes being positioned during the course of this year. Throughout surrounding counties we have positioned over 700 nest boxes with many now being used by Barn Owls, Little Owls, Tawny Owls & Kestrels.
During 2006 the nesting Barn Owls in our county will be increasing with each pair raising an average of 5 young each, with another important increase expected, the young during 2006 will need additional places to roost as they move about searching for new territories that can support them. This will mean more provisions of habitat & more nest boxes to support the growth of the county population. If more habitat & nest box sites are not created many of this years young will be hunting the roadside verges & competing for provisions, its is sad to say many will simply get hit by fast moving traffic, this being the Barn Owls common cause of death.
We have also noticed this year, more of the road-side hedgerows along side busy roads are being trimmed very low, this is an immediate danger for Barn Owls as they hunt the hedgerows & being so low puts them just at the right height to get hit by cars. If hedges can be kept at the height of 8ft then the Barn Owl death rate on county roads will be minimised.
Simply ways in which you can help us to support Gloucestershire Barn Owls.
• Report a local sighting to the Barn Owl Centre using this link or by calling us on 01452 383999. By knowing locations there is much more we can do to help them & their young.

• Position suitable nest/roost boxes on trees or on or within farm buildings away from main roads. See image gallery
• Special Barn Owl Boxes can be purchased from the Barn Owl Centre through our web shop or by calling us on 01452 383999.

• If you are not a landowner & wish to support Gloucestershire's Barn Owl population why not help by Sponsoring a Nest Box? This can simply be done by following this link or by calling the Centre direct.

• Pledge a donation to support the conservation work we do in support of Barn Owls
For more information about the work of the Barn Owl Centre call 01452 383999
If you wish to arrange a visit to the Centre please let us know before setting off as the Centre is only open to pre-arranged visits only.

Kind Regards
Vincent Jones
Centre Director/Conservation Officer
The Barn Owl Centre
www.barnowl.co.uk
Tel: 01452 383999

A Registered Charity - 1097410
---
Other Barn Owl Centre News