News
Nest Box Launch for 2012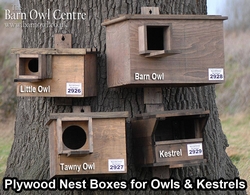 Housing for Owls & Kestrels
As an active Owl Conservation Charity, this is one of the most important tasks we do when working to support wild Owls & Kestrels. By supporting these birds in the wild by making suitable housing available, this goes a long way in helping these birds to increase in their numbers.
Launching our new range of nest boxes through our online shop is great news, in addition & to improve the launch we have also added our nest box range on our eBay shop for all to see, this will help us reach out to more people wishing to put up suitable nest boxes for the species they want to support.
For anyone wishing to support local Barn Owls, Tawny Owls, Little Owls & Kestrels, look no further. We supply an abundance of nest boxes throughout the UK, this being to individual landlowners or to farmers that wish to do their bit to support wildlife, also we supply larger organisations & businesses too.
To view or to purchase from our own Web Shop - Click Here
To view or to purchase from our Ebay Shop - Click Here
Thank you for dropping in.
Wishing you a very happy New Year
The Barn Owl Centre
01452 383999
---
Other Barn Owl Centre News