News
Barn Owl Manors Now Occupied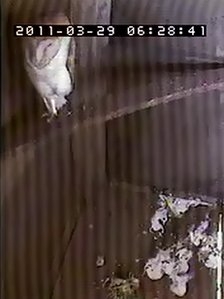 BARN OWLS SIGHTED IN SUPER-SIZED 'HOMES' AT GLOUCESTERSHIRE FARM
Two barn owls have been spotted in super-sized luxury "homes" put up on The Co-operative Farms' Down Ampney estate to help preserve the protected species.
The two beautiful birds have been sighted in two of the three 10ft (3m) tall "Barn Owl Manors", which were erected on the Gloucestershire farm as part of The Co-operative's major wildlife initiative called Habitat Heroes.
The Co-operative Farms launched the Habitat Heroes project in May 2011 to help preserve and protect some of the UK's most iconic species.
Its estate at Down Ampney linked up with Gloucestershire's Barn Owl Centre to create the boxes, which are fitted with high-tech cameras and are designed to deter predators and other territorial birds nesting in them.
James Taylor, Down Ampney Farm Manager, said: "It was really exciting to see that a barn owl had moved in to one of the manors, but when I checked one of the other boxes and realised we had two that was unbelievable.
"We'll make sure they are not disturbed and continue to monitor them on CCTV and, with a bit of luck, we might soon see a breeding pair, and even some chicks, before too long. It shows that our Habitat Heroes project, which looks at ways we can make our land help support our local wildlife, appears to be working."
Six farms across the UK are taking part in The Co-operative's Habitat Heroes project to improve the feeding and breeding opportunities for endangered or protected species like otters, water voles, bats and red squirrels, and help safeguard them for the future.
Vincent Jones, from The Barn Owl Centre, added: "It's great news, but it was only a matter of time before the owls found the manors and moved in. They are a perfect space for barn owls and they must feel safe in their 'mini-barns' in the countryside.
"Hopefully they'll stay and make them their nesting sites and, fingers crossed, we could see some youngsters in the spring. This is really positive and we are well on our way to achieving what we set out to do."
Here is a short video clip showing a Barn Owl in one of the Barn Owl Manors
---
Other Barn Owl Centre News