News
Back to the Wild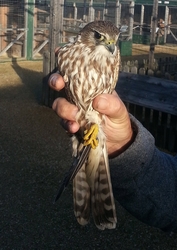 Today we at the Barn Owl Centre had the pleasure of releasing a wild female Merlin, she was handed in after flying into a glass window at an industrial site along the Bristol Road in Gloucester.
This Merlin was very lucky to have not broken her neck on impact!
All ends well with her being re-released back into the wild where she belongs.
Merlin
Merlins are highly aggressive towards other raptors and crows during the nesting period. This is beneficial to the song and ground birds of nearby woodlands, since their territory is kept fairly free of predators during the entire mating season. The survival rate amongst young merlins is exceptionally high, with three birds per nest often reaching breeding age.
Found throughout the northern hemisphere, they favour areas of open country such as grassland, dunes and coastal areas. The merlin is the smallest falcon in the UK.
---
Other Barn Owl Centre News