News
TAWNY OWL RELEASE Visit our live Webcam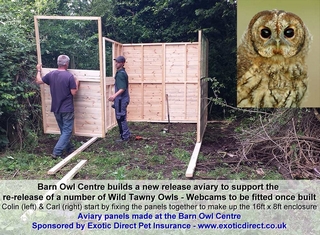 The journey back to the wild begins for 6 rescued Wild Tawny Owls!
Release Aviary kindly Sponsored by Exotic Direct Insurance - Find out more
Note: For Mobile Devices only
To view the webcam using a Mobile devices such as an Ipad or Iphone, please download the require APP called 'PUFFIN BROWSER' by visiting the below website.
Please download the full version!
http://www.puffinbrowser.com/index.php
Release Project started from Sun 13th July 2014
Release Date will be Sun 7th Sept 2014 - approx 9pm
Please Read
SAFETY & LONG TERM SURVIVAL IS IMPORTANT FOR A RELEASE PROGRAM!
THESE TAWNY OWLS ARE IN CAPTIVITY BECAUSE OF NO FAULT OF THEIR OWN
AS A RESCUE CENTRE, IT IS IMPORTANT WE WORK TO GIVE THESE OWLS A 2ND CHANCE.
PLEASE BEAR WITH US AS WE WORK TO RELEASE THESE TAWNY OWLS TO THE WILD - THANK YOU!
---
Other Barn Owl Centre News