News
Barn Owl Centre helps PTS rescue a Bird of Prey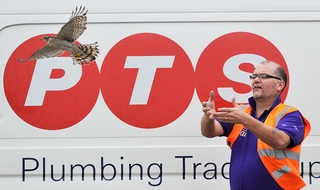 Sparrowhawk Rescue
We were called out today to help rescue a male Sparrowhawk trapped in a building owned by PTS Plumbing, Gloucester.
Other organisations were contacted by PTS but sadly no help was offered even though they were national organisations.
Being a small local Rescue Charity we arrived to site very quickly & the Sparrowhawk was quickly rescued & released successful back to the wild by the branch manager Ian Riliey
Well done PTS Plumbing Supplies - Gloucester for taking the time to help a trapped Sparrowhawk.
To find out more about PTS Plumbing - Click here
---
Other Barn Owl Centre News