News
Gloucestershire's Owl Box Project - 2015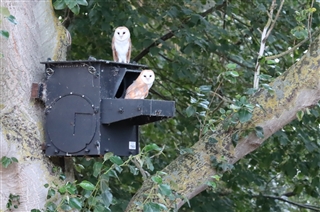 Gloucestershire's Owl Box Project
Gloucestershire Owls will be receiving a huge housing boost from the Barn Owl Centre in the form of 50 new Owl Boxes.
To help fund this important Owl Box project for Barn Owls, Tawny Owls & Little Owls, with Kestrels included, funding will come from the small amount of profit we accumulated from the sale of our Owl Boxes that we distributed UK wide.
During the 2nd half of 2015 & in preparation of this years winter months, our conservation team will be out & about visiting landowners across Gloucestershire to install 50 additional Owl Boxes free of charge.
The aim of our project will be to provide important housing to support this year's young Owlets when they disperse to new locations of our local countryside. In addition, this will create many additional nest sites for breeding Owls during the 2016 season & onwards.

News updates with images will follow on as this important Owl Project moves forward.
Additional support is always a great help to aid such an exciting Owl Box Project.
If you can help with a kind donation, please Donate Here
---
Other Barn Owl Centre News