News
2016 - ECO Barn Owl Boxes - Well Ventilated plus thermal protected to keep cool during the hottest days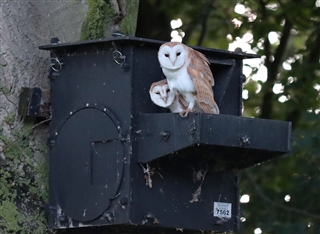 Click Here for price or to purchase.
As an extra addition to our Eco range of Owl Boxes, we have launched this new ECO design for 2018, this being a taller external ECO Barn Owl Box (Ref EcoT).
As well as being an ECO Box, we have taken the design of our indoor Barn Owl Box & designed an external version with new inspection & cleaning openingt, this we feel makes life a little safer when nest box inspections or cleaning of the box takes place.
This Barn Owl Nest Box adds choice to our customers whilst adding much more to the range of Eco, timber & plywood nest boxes we already make & supply UK wide.
The huge benefits are that it's a lighter Owl Box & the main structure of the box is made from quality & durable recycled plastic that has superior thermal insulation and heat retaining properties.
With a well thought out & constructed design put in by our experienced conservation team, they have produced a great Barn Owl Box.
Here's a list of great benefits to our 'Specially designed' ECO Barn Owl Box
Robust in design & lighter than timber or plywood Owl Boxes.
ECO friendly, durable, washable & longer lasting, which means the Owl Box will not rot.
Waterproof & well ventilated to combat the harshest of UK weather conditions.
Superior thermal insulation to keep the Owl Box cool during hot weather conditions.
Ventilated ECO floor, designed to offer strength & designed to provide airflow to combat moisture build up from Owl Pellets or any condensation issues from nest debris.
Made from quality & durable recycled, recyclable 9mm ECO Stokboard that has superior thermal insulation and heat retaining properties.
Through a lot of hard work, our conservation team have professionally tested this Recycled Barn Owl Box over time against any drawbacks, especially heat & condensation, the results gained proved hugely positive to support the welfare of future Owls & their young.
Recycled Stokboard is chemical free, making it non toxic to Owls & all wildlife.
Requires no protective treatment or staining, which is a huge bonus as the years go by!
Comes with a 'robust' fixing bracket system made from solid timber.
Easy to install on trees, poles & buildings & much lighter to handle & install (Internally or external).
Comes with a well designed ECO inspection hatch plus a detachable ECO roof for easy access & cleaning, there is no bitumen felt used, which does very hot in heat of the summer.
Supported with our 'solid timber' entrance porch that has been specially designed to protect the entrance hole from driving wind & rain. This provides a natural entrance point into the box plus it allows the box to be faced in any direction.
Each ECO Barn Owl Box is sent out with its unique ID number, this means you can record the Barn Owl Box back to us or to a local project near you. (Recording is Optional)
Also & most important, our Owl Conservation team are always on the end of the phone from 9am to 9pm daily to offer important support as & when required. (Tel: 01452 383999)
Published Case Study report. http://www.centriforce.com/files/6614/5805/9028/CaseStudy13-Barn_Owl_Centre.pdf
Click Here for price or to purchase.
---
Other Barn Owl Centre News