News
Volunteers Wanted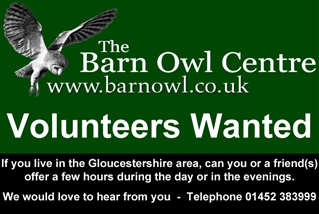 Office/Admin Volunteer
We are currently looking for an active volunteer who can spare a few hours during the week to help out in the office. If you have good computer skills, good communication skills & enjoy working in an office environment working to support Owls, we would love to hear from you. Please call us on 01452 383999

Owl Box Workshop Volunteers
We are currently looking for active volunteers who would enjoy helping out in our busy workshop where we make and assemble a range of Owl Nest Boxes.
Basic carpentry or workshop experience is an advantage but training will be provided.
Volunteers for Nature Reserve
In addition we're also looking for volunteers who can work with us to help maintain the farms natural environment. Tasks include the mowing and upkeep of a long trail of grass paths that gently feed through the farms 12.5 acre nature reserve, other tasks include some habitat management, forexample the pruning of some of the habitat growth that grows out from the nature trails. All Tools and Ground Keeping equipment is supplied

Ideal for people enjoy being active!
The above offers some great opportunities for all ages especially for those who are now retired. We have a great environment that works tirelessly to support wildlife and a sanctuary that supports Owls and Raptors that have come into our sanctuary from a growing Pet Trade.
There is always something to do and to get involved in.
If you're interested or know someone who could be interested, please give us a call to make arrangements to pop over. We would love to show you around and to connect with you to get you actively involved.

Telephone 01452 383999
Office hours are from 9am to 9pm, 7 days a week
Kindest Regards
Vincent Jones
Founding Trustee/Director
---
Other Barn Owl Centre News